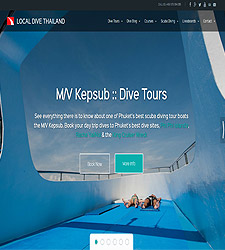 Local Dive Thailand – Scuba Diving Phuket Tours & Liveaboards, this is a new website designed and built by A Plus Design. Was one of my premier builds because the client was happy for me to run with as much design and development rope as I could handle, leaving me alone to develop a product that will be timeless, beautiful and functional.
Local Dive Thailand are one of Phuket's main liveaboard booking operators offering trips to the Similan Islands and other remote location all over South East Asia at amazingly affordable prices. So feel free to check them out, I certainly learned a lot about the amazing diving locations Phuket and Thailand have to offer while building this website!
Visit
Here is an excerpt from their about page to highlight the quality of service they offer when it comes to Scuba Diving in Phuket.
"We take our job as a leading diving tour company very seriously, you could argue we are the best at what we do here in Phuket, providing safe, reliable, fun and dedicated scuba diving tours to Thailand's best dive sites and most pristine reefs. But that is not going to stop us from improving further or prevent us from doing everything we can to make your customers and your day one to be remembered!"
I know who I'll be scuba diving with in Phuket!
Enjoy!